Our New Car!
When we got to Perth we hired a car for a week and set about trying to find ourselves something nice which we could call our own. Trickier than it seemed. Derek wanted something which was fun to drive, Tina needed something flexible, which could carry her fitness equipment when the time comes. We nearly bought a Ford Laser, which is the Aussie equivalent of the old Ford Escort. They've only just got the Ford Focus here, and it's imported from Europe and so is very expensive. Fortunately we didn't give up and buy a Ford. We dropped into the Honda dealer wanting to look at the Civic as an alternative, but found ourselves staring at the new "Jazz", which has only just gone on sale here. After a test drive, and a look at the superbly designed interior, we knew we'd found what we were after. We signed up there and then!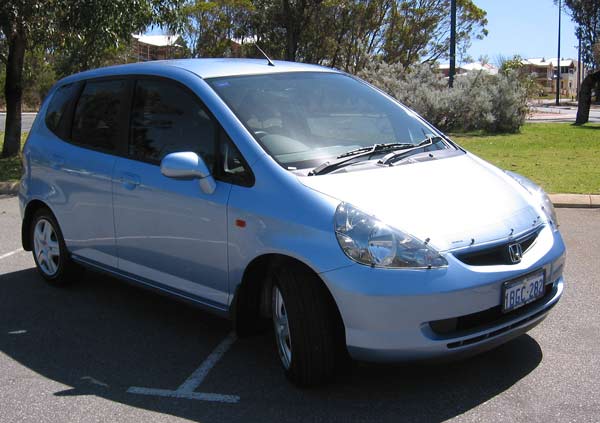 We originally ordered a silver one, but so, it turned out, did lots of other people. A week after ordering, the dealership told us they couldn't deliver a silver one on time, so we could either have our deposit back or choose another colour. Not wanting to wait several weeks for a silver one, and not wanting to start the car hunting process again, we had no choice but to take an "ice blue" one instead. It wasn't much of a hardship - we both liked the blue just as much as the sliver - but we were a bit concerned about the internal heat coloured cars tend to build up in the Aussie summer. So we haggled in $500 worth of window tinting! We took delivery on 29th November 2002, and the car had 15km on the clock.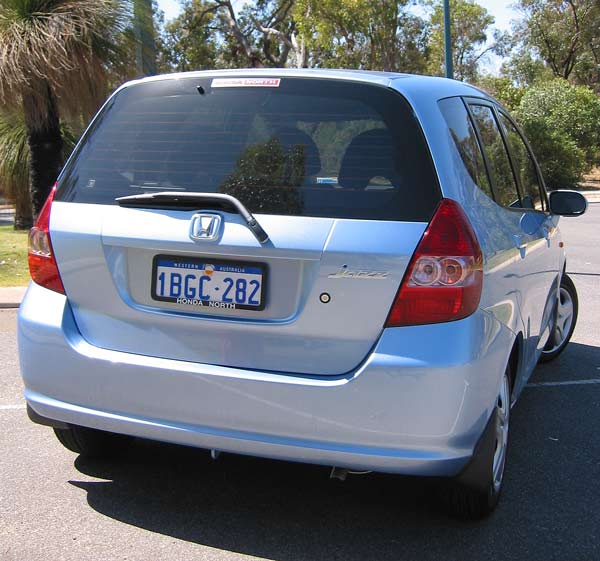 So, the car is a Honda Jazz VTi, with the 1.5 litre VTEC engine. It has a few nice things like metalic paint, air conditioning, 4 electric windows, electric mirrors, CD player, remote locking, 2 airbags, etc. The interior is beautifly designed, with clever folding seats that lay down completely flat, lots of storage space and cup holders. It has electrically assisted power steering too, which, apparently, is a good thing. Oh, and Tina got some flowers from the dealership, which pleased her no end.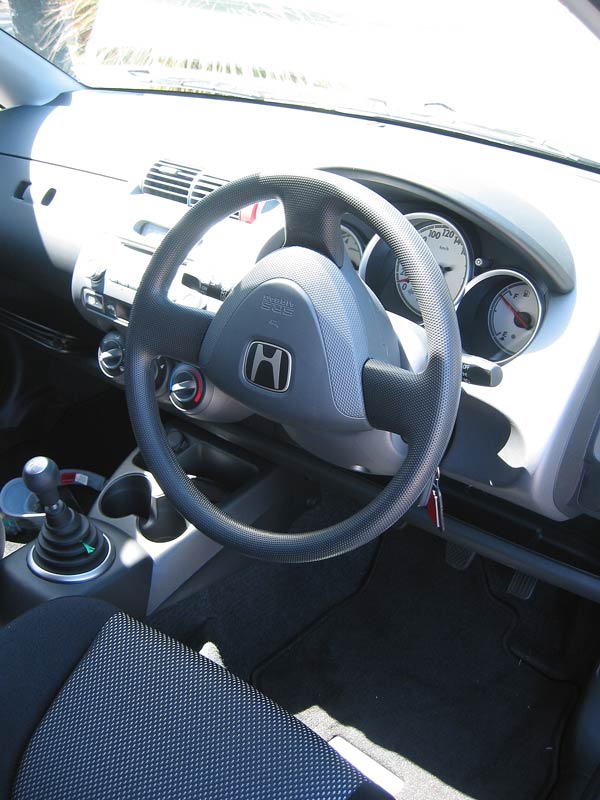 While no scorcher, performance is more than ample for Perth's wide straight roads, and it's quite cheap to run. We like it!
And yes, the steering wheel is upside down the picture above. I accidentally photographed it with the wheel turned all the way round!
Derek Fountain - 01/12/02