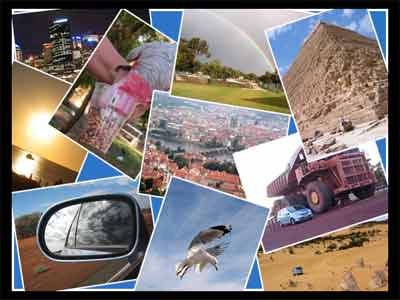 I used to quite like taking pictures with a film camera, but never really got "into" it. Too much like hard work and waiting around for the final result! When good quality digital became affordable I splashed out on a Canon S40 point and shoot, and became thoroughly hooked. All the old S40 photos are preserved here, but most of these photos are taken with a Canon 20D digital SLR.
Click here for galleries of holidays Tina and I have taken over the last few years. Most of our holiday photos are sitting in England as prints, and one day I'll get the best of them on the 'net. In the meantime there are shots here from Europe and Australia.
Click here for galleries of snapshots I've taken. These are mostly from days out, picnics, parties and so on. All Australia stuff at the moment.
Miscellaneous Collections and Photos
Here's a bunch of collections and individual photos which don't really fit anywhere else, but have a certain entertainment value. Some of these links lead to galleries, some straight to a page of full size photos. Most were intended for family and friends, and are preserved for posterity.
A couple of shots Richard and I took of our
cars
A few shots of our Mini,
Poppy
1st time out with the 20D -
Trigg
A few shots of the Perth
sunset
.
Our
crate
, arriving from England in December 2002